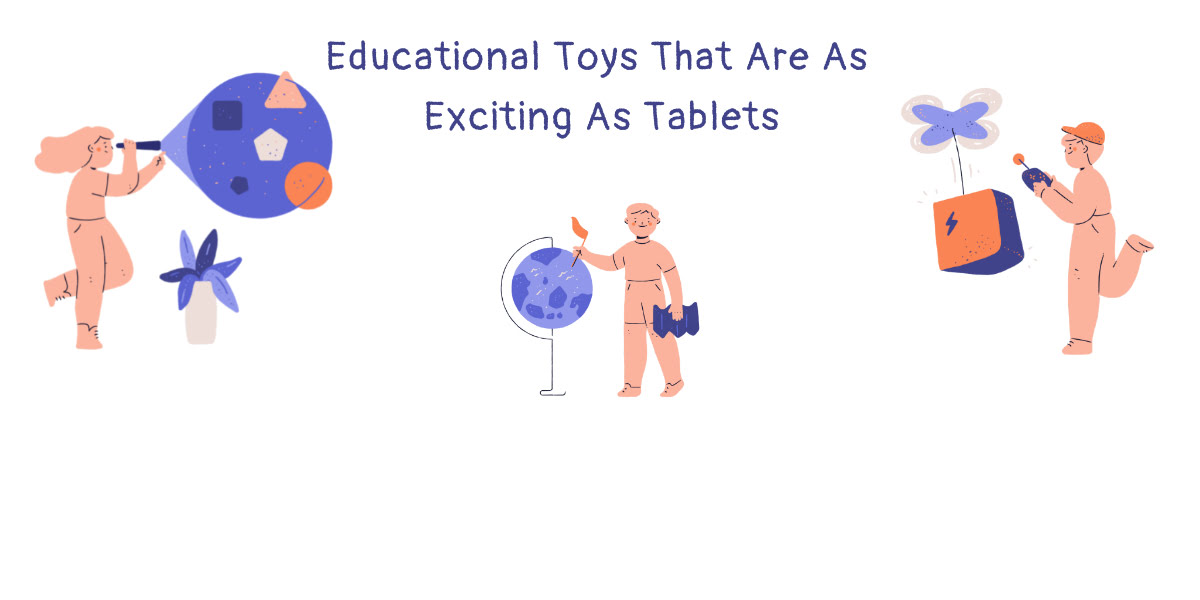 Max
13
min read
The Importance of Educational Toys
Educational toys are becoming more and more popular with kids. Children these days are growing up in a digital world, where tablets and other gadgets have become the norm. The marketplace is flooded with educational toys to help children learn important skills through playtime.
The most common educational toys include traditional board games, which can teach math and other skills like counting money or playing chess. Another example would be dolls that encourage pretend play for hours without getting bored as they engage in activities like cooking or brushing hair.
In the past, kids could satisfy their curiosity and creativity without having access to tablets. But now that technology has taken over our lives. It's hard for children to go back and find some outlet with more interactive toys.
Take-apart toys are a great way for parents and teachers who want their children or students to be engaged in educational activities without being distracted from screen time. The educational toys on the market today, especially for toddlers and preschoolers, can be challenging to play with because they're so complex.
This article discusses some of these highly-rated toys that kids would love to play with as much as their tablets.
Best Educational Toys for Kids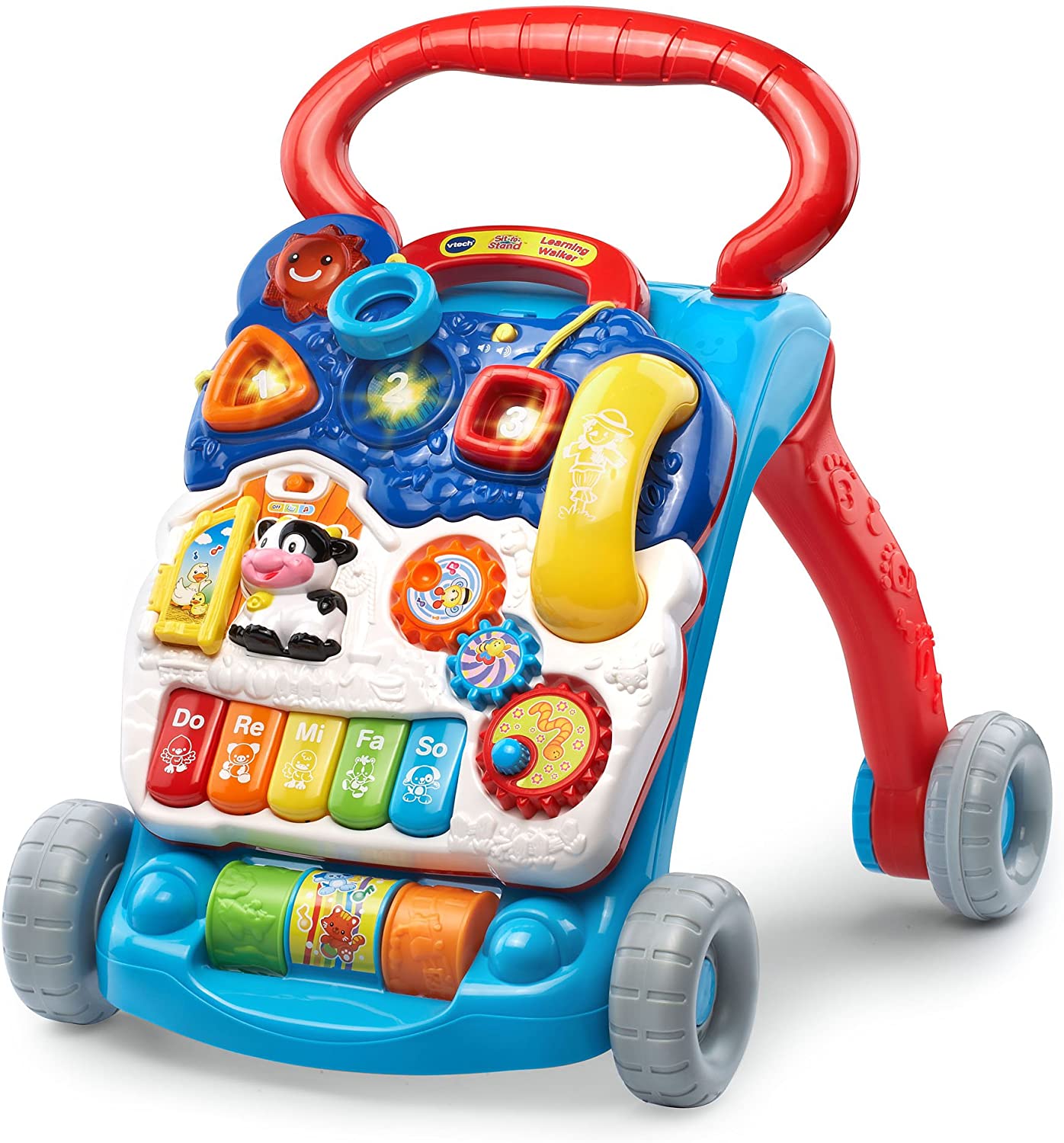 VTECH SIT TO STAND LEARNING WALKER
Recommended age: 0 to 2
VTECH SIT TO STAND LEARNING WALKER is a children's toy that can be used for early childhood education. It is designed to improve the child's walking ability, gross motor skills, and strength. It has a recommended age of 3 and up, making it perfect for kids who are just starting on their adventure into learning through play.
It is safe for children to use as tested by the National Sanitation Foundation. It also comes with a one-year warranty and is made of high-quality materials free from lead, cadmium, mercury, and other harmful chemicals found in some children's toys.
This toy would make an excellent educational pastime for kids who love their tablets as much as they love their learning toys.
Get it here.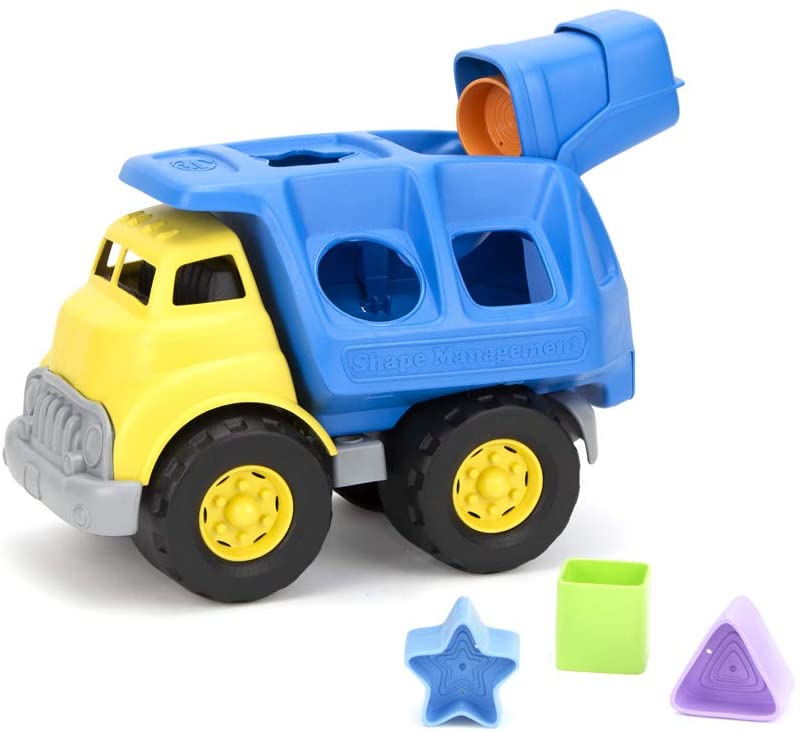 GREEN TOYS SHAPE SORTER TRUCK
Recommended age: 1 to 5
The Green Toys Shape Sorter Truck is a toy that can be transformed into different shapes. It comes with four activities to help children learn while they play. The pieces are dumped into the back bin, and older kids can work on fine motor skills and shape recognition by sorting them.
This toy promotes creativity, development of cognitive skills, social interaction, and physical activity. It can be used to teach about sustainability. It's lightweight and easy for kids of all ages, including small hands.
The Green Toy Shape Sorter Truck is a toy parents love, and kids will love even more. This educational vehicle uses recycled materials, so it's environmentally friendly too. It can be cleaned in the dishwasher or by hand to keep clean and inviting for your child who loves driving around with their favorite character.
Get it here.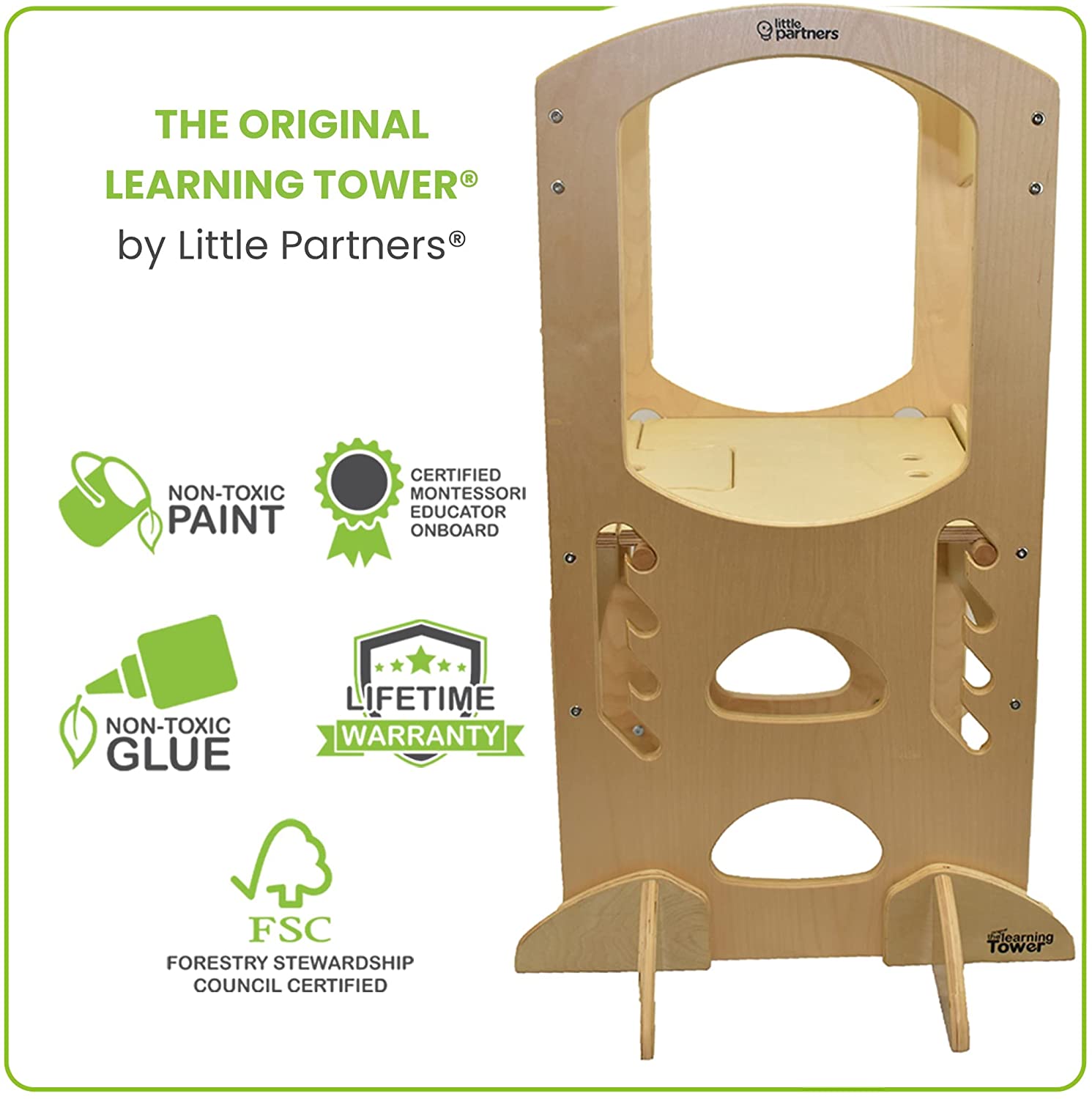 LITTLE PARTNERS LEARNING TOWER AND DEVELOPMENTAL ACTIVITY BOARD
Recommended age: >18 months
Little Partners Learning Tower and Developmental Activity Board is a learning tower for kids, emphasizing the development of critical thinking, social skills, and imagination through play. It lets them have fun while learning new skills that can help them in school or their future careers.
Montessori educators have designed this toy, perfect for children from 3-7 years old. It comes with 15 pieces of colorful blocks that are easy to assemble and take apart again (so your kids can play with them at home, too!).
This educational toy helps kids develop their color perception and coordination skills, essential for good development. It is an interactive board that attaches to the sides of the tower. The tower alone can promote independence in children by supporting them with independent play. The lightweight toy is easy to transport for travel purposes because it's made from a durable material that ensures its longevity even with frequent use.
Get it here.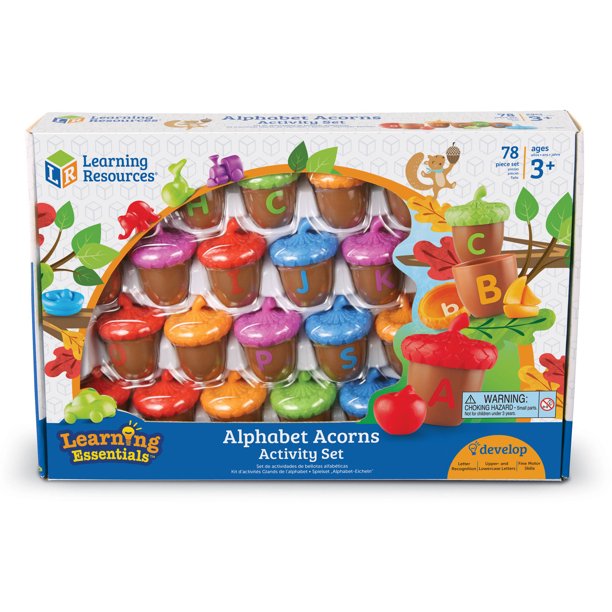 LEARNING RESOURCES ALPHABET ACORNS ACTIVITY SET
Recommended age: 2 to 5
This set of letters and numbers is a great educational toy for toddlers. It promotes early literacy skills, hands-on tactile learning, visual learning with the alphabet acorns, and more. It's perfect to use in classrooms or at home.
This educational toy is the perfect option for moms and dads who want something to capture their little ones' attention without sacrificing quality time together over electronics. This set comes in 26 tiny gifts, which make up all letters A-Z, making it easy enough even for a toddler to play with.
This is a great educational toy for children. It contains 26 different colorful acorns filled with surprises and teaches letters, sounds, word names, and the alphabet engagingly.
Get it here.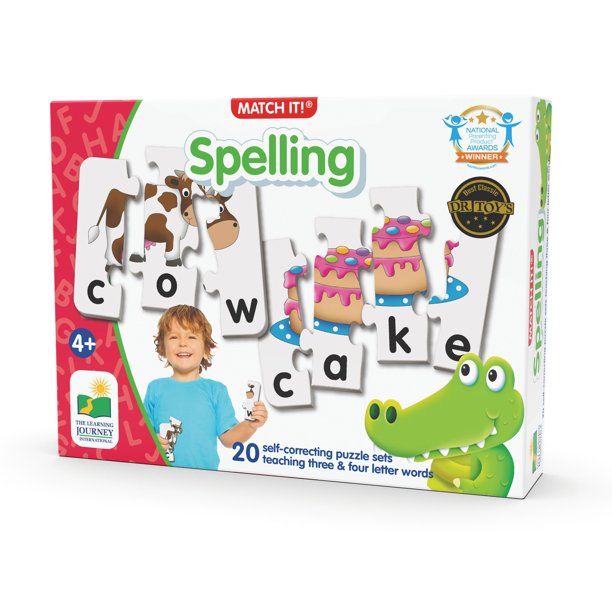 THE LEARNING JOURNEY MATCH IT! SELF-CORRECTING SPELLING PUZZLES
Recommended age: 2 to 5
The Learning Journey Match It! Self-Correcting Spelling Puzzles promote concentration and problem-solving skills for children. These self-correcting puzzles are made of durable plastic with a magnetic backing, making them easy to use on any surface.
Children love this toy because it has a timer that allows them to do as many rounds as they want within 60 minutes or less, and trust me when I tell you that confidence is half the battle in learning anything new.
The puzzles are a set of three- and four-piece word puzzles that are designed for children aged 3 to 10. These self-correcting spelling lessons fit together to teach early literacy skills such as phonics, vocabulary, and grammar. The bold images will help boost the visual learning process while the simple design is easy on parents' wallets.
Get it here.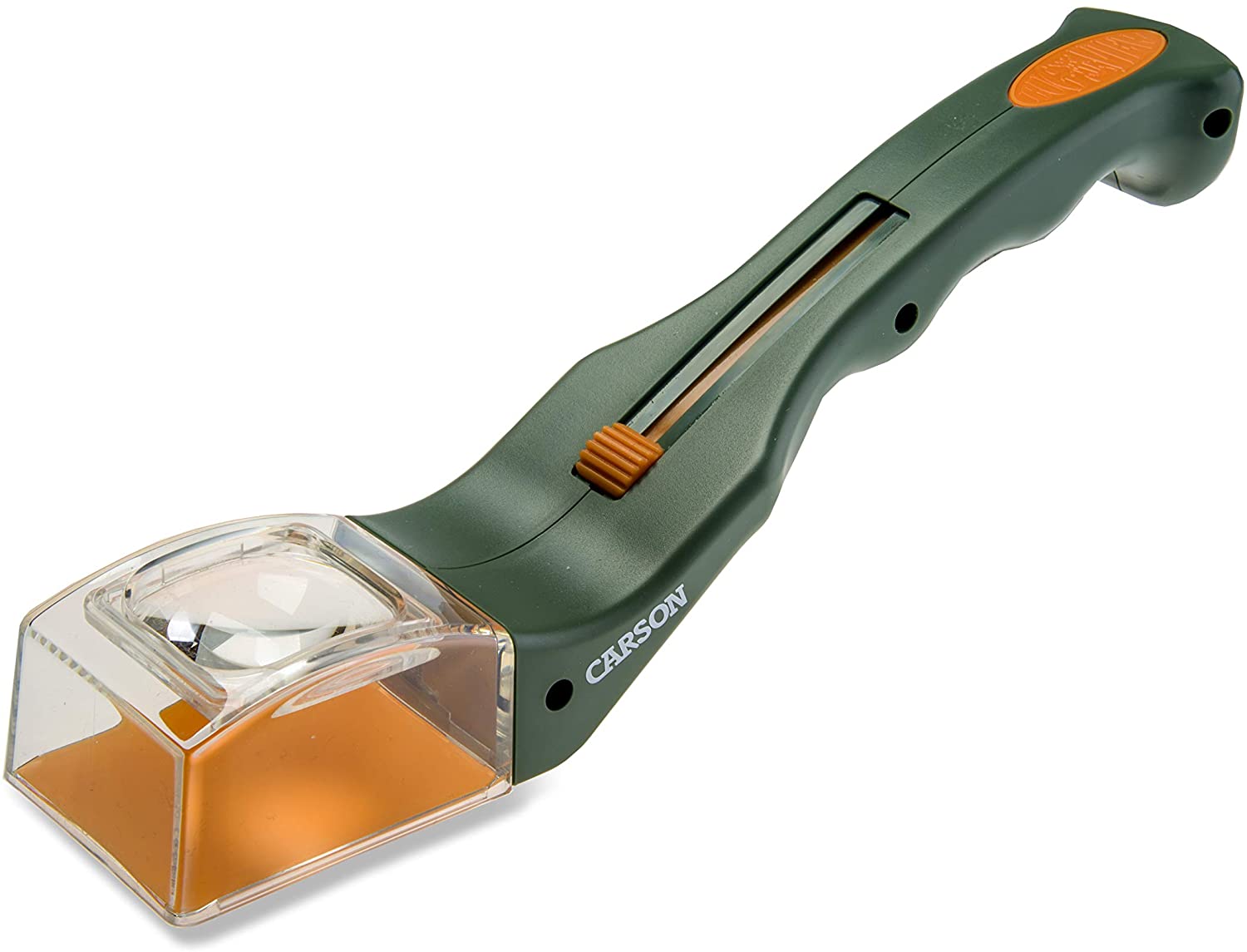 CARSON BUGVIEW QUICK-RELEASE BUG CATCHING TOOL
Recommended age: 2 to 10
The Carson BugView Quick-Release Bug Catching Tool is a fantastic educational toy for children. It has 5x magnification power, allowing kids to view their bug-catching adventure from a closer perspective. In addition, the release button on the tool makes it easy for kids to let go of their captured bugs when they're done with them.
This bug-catching tool can be used by ages 2 to 10 and comes in three different colors: yellow, blue, or green. The Carson BugView Quick-Release Bug Catching Tool is a fun and educational toy that kids will love to play with.
As an educational tool for children of all ages, this quick-release bug catcher will allow your child's imagination to grow with it as well as inspire discoveries about how insects live on our planet and what makes up their habitat.
Get it here.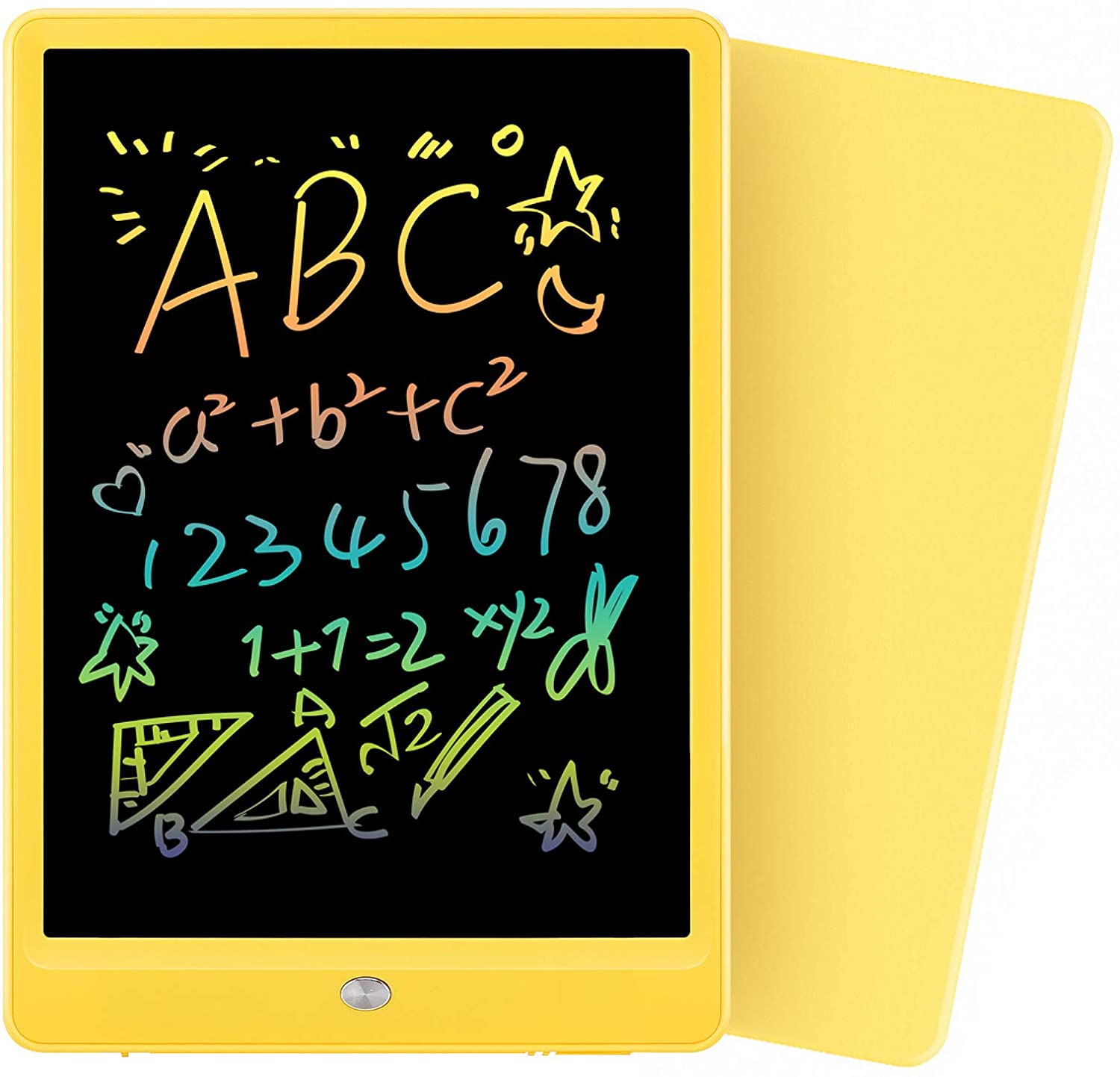 ORSEN GIFTS LCD WRITING TABLET AND DOODLE BOARD
Recommended age: 2 to 10
The ORSEN GIFTS LCD Writing Tablet and Doodle Board is a fantastic educational toy that kids will love. It has 12 rainbow-colored drawing pads, each with varying levels of pressure sensitivity to create lines of varying thickness without breaking any crayons. This means it's perfect for creating doodles and writing stories as well!
It also provides a pen stand so your child can easily keep their favorite pens nearby while they work on drawings or writing assignments.
The ten-inch color screen on this product makes it easy to use for toddlers or second-graders alike. The large size allows them to draw without having their hands restrained by their pencil gripes. It is a great way for kids to keep themselves entertained and help with their writing skills. It uses pressure-sensitive technology that provides bold lines of varying thickness at the touch of your finger or pen.
Get it here.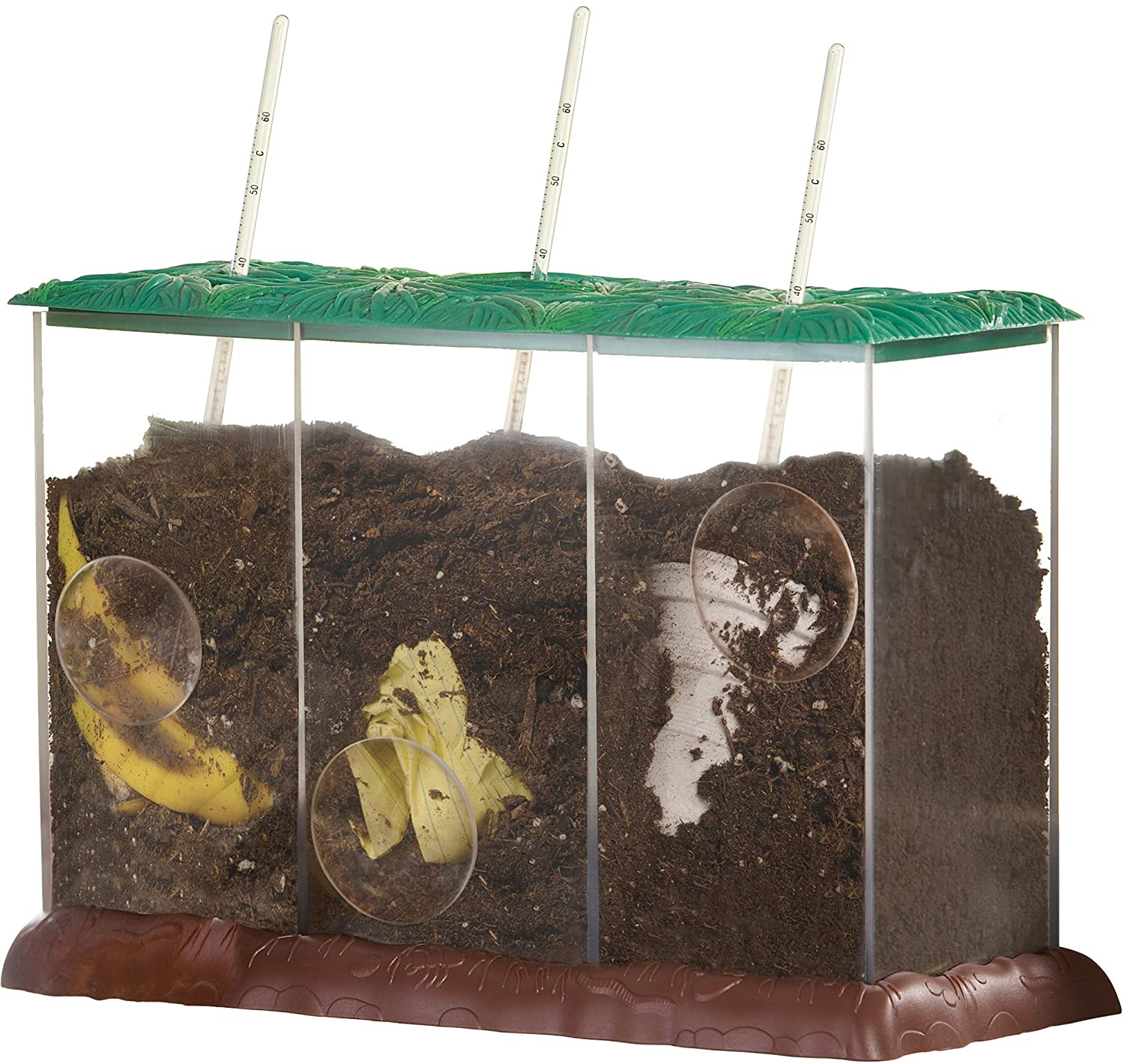 EDUCATIONAL INSIGHTS NOW YOU SEE IT NOW YOU DON'T COMPOST CONTAINER
Recommended age: 2 to 10
The Now You See It, Now You Don't Compost Container from Educational Insights is a versatile and multi-purpose tool for kids to learn about composting. The three compartments are conducive to comparative studies, where children can observe the different creatures in each compartment and compare them side by side.
Educational Insights Now You See It Now You Don't Compost Containers are a great way to introduce children to the importance of recycling. They come with magnified spots that allow kids to see their waste before composting. They then leave them in awe as they watch the container transform into new soil, promoting awareness about how our actions affect nature.
Get it here.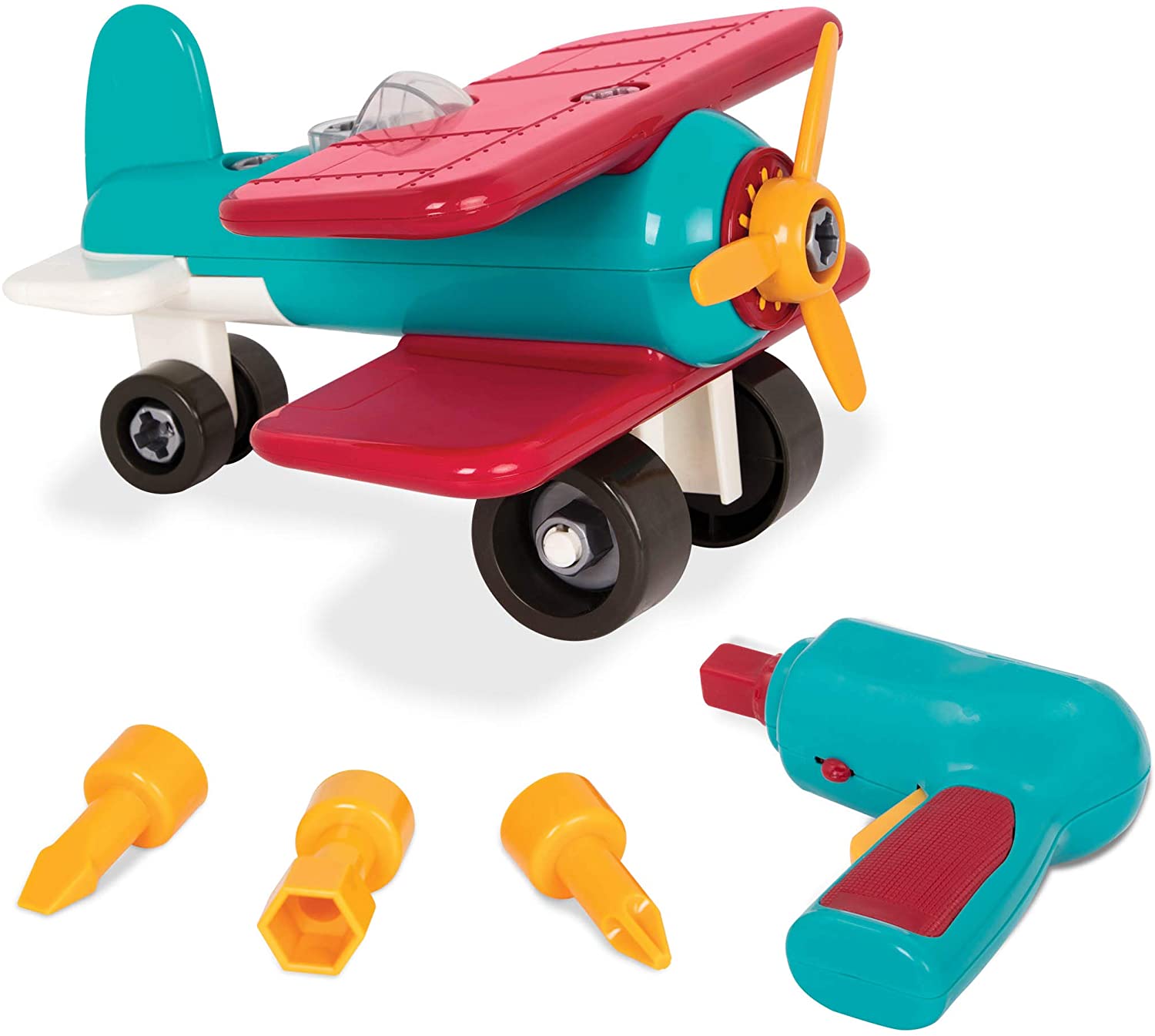 BATTAT TAKE APART AIRPLANE
Recommended age: 3 to 7
The Battat Take Apart Airplane allows children to experience the joy of building with blocks and develop their fine motor skills. It's battery-operated so that it can be used anywhere- not just in the home or at school.
The set includes detailed instructions with step-by-step diagrams, an illustrated storybook to share the experience, and over 100 pieces of building blocks. Each block has unique shapes such as triangles or rectangles to help children build three-dimensional structures they can take apart later on when they have mastered the basics.
The overall educational value is enhanced by its quality construction which is both durable and safe. Additionally, the toy comes with a lifetime warranty so that if anything breaks or becomes damaged during normal use, BATTAT will replace the product for free.
Get it here.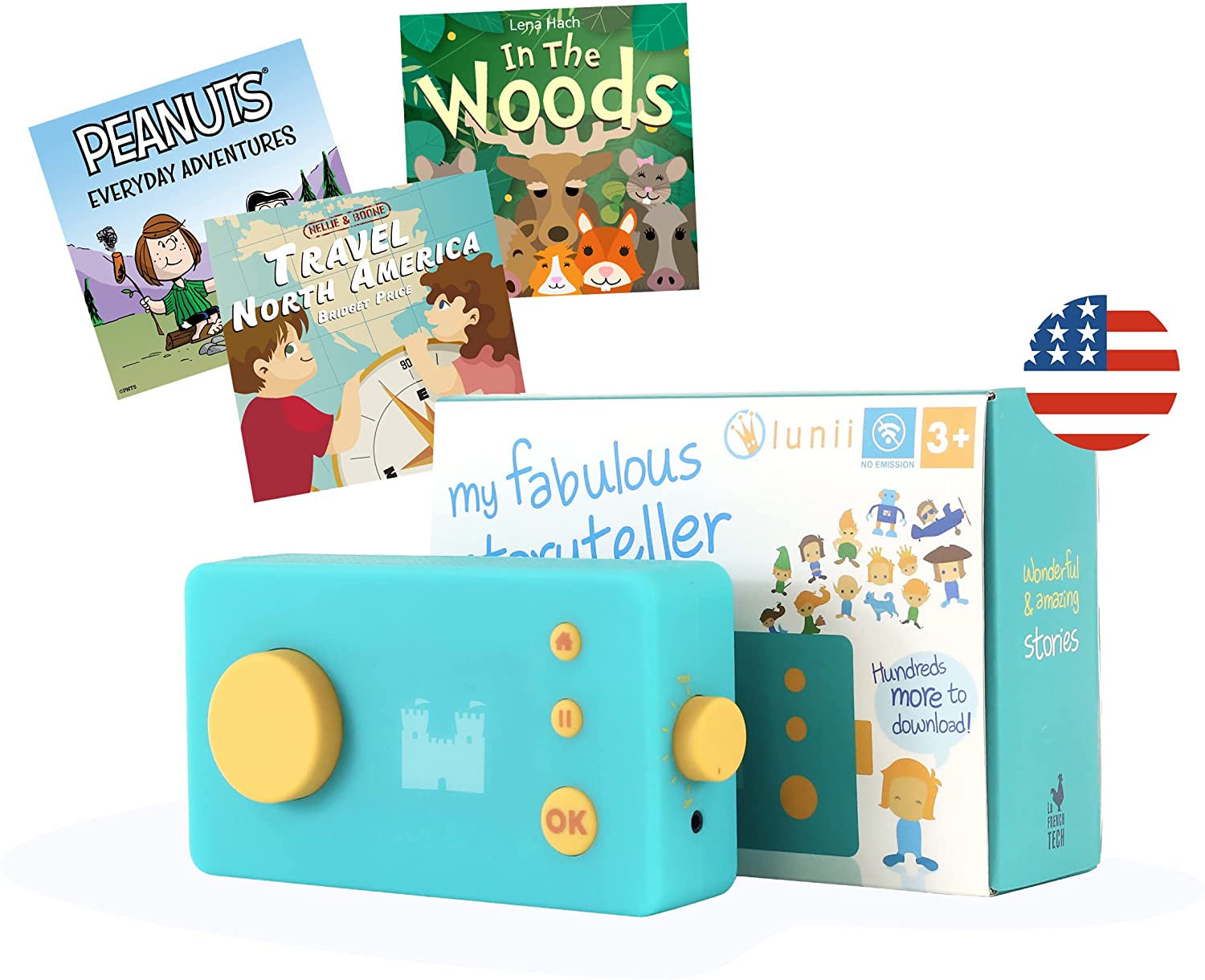 LUNII STORY TELLER
Recommended age: >3
The Lunii Story Teller is an educational toy that teaches kids about science, technology, and engineering. The device has 48 stories pre-loaded to help introduce children to different topics for specific age groups.
It includes a speaker and interactive buttons that allow children to engage with the story as they listen or play along. It also comes with a USB charger and easy assembly instructions so parents can easily set up the product in their own home.
This product has been designed with fun in mind, so kids will love playing with it as much as they love their tablets.
Get it here.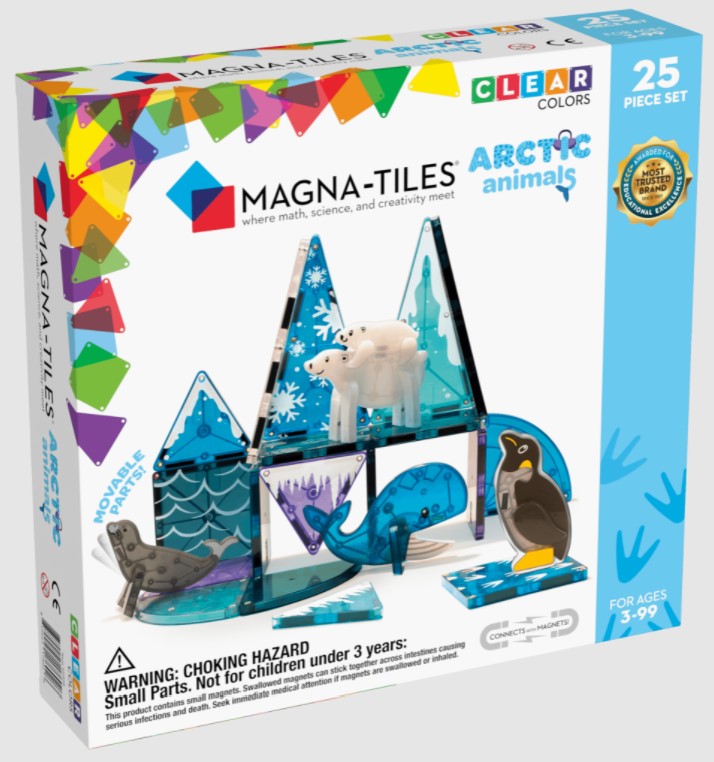 MAGNA-TILES
Recommended age: >3
Magna-Tiles are educational toys that children and students can build their world on their table or floor. They allow for unstructured play and imagination to come alive.
The Magna-Tiles have been around since 1997. Valtech created it in the Netherlands to learn geometry, physics, astronomy, and more!
They're also durable enough to be played with by kids of all ages, including toddlers who need their own smaller set as well as older students who want an easy way to build their next scientific invention!
Get it here.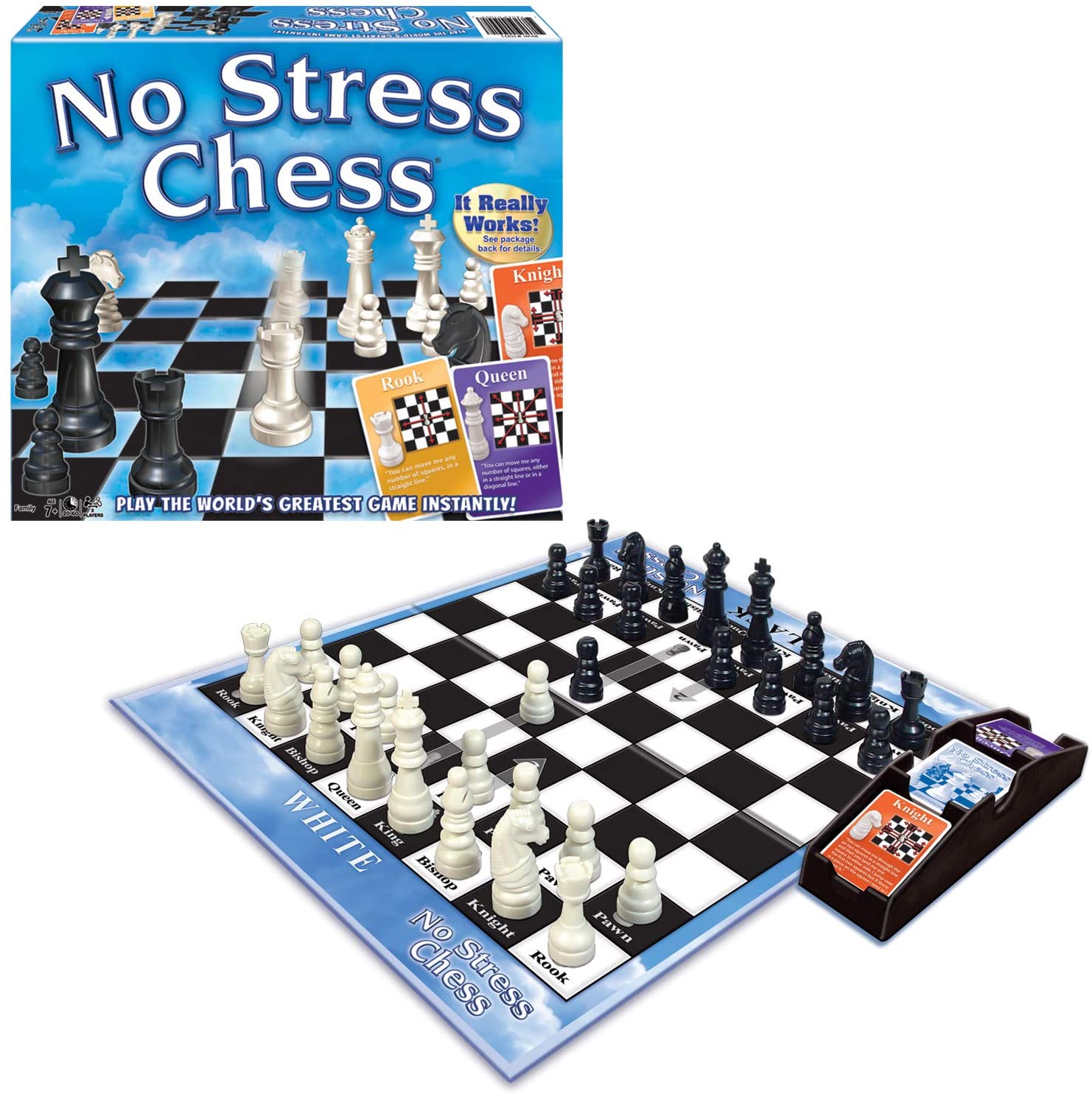 WINNING MOVES NO STRESS CHESS
Recommended age: 7 to 12
The no-stress chess game is a board game that teaches you the rules of chess without needing to know how to move or plan. It's played on a regulation, 8×8 grid with pieces that have been modified, so they are easier for children and younger players to learn.
It can be played with two or more players. The pieces on the chessboard are interactive, and they will show you how to move them right before your eyes. It's an educational toy kid would love to play with as much as they love their tablets because it offers many levels of difficulty so everyone can find what works for them!
Get it here.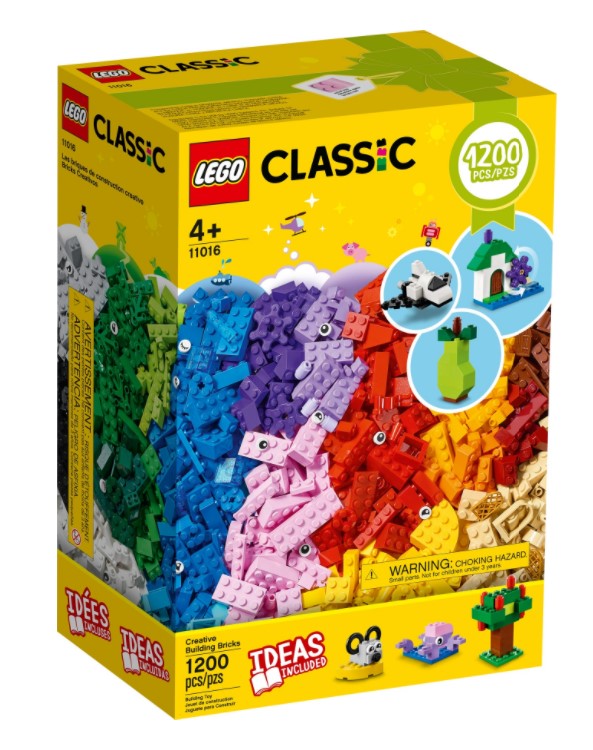 LEGO CLASSIC
Recommended age: >4
Lego Classic is a source of ideas for children. It can help them see the world differently and build things that are not possible with tablets or smartphones. The pieces, which come in many colors, allow children to create any structure they want from scratch.
Not only does Lego Classic provide opportunities for creativity and imagination, but it also gives kids something fun to do when they're on the go and at home.
Lego Classic is a line of sets for the whole family that your children will love to play with as much as they love their tablet. These fun toys help develop problem-solving skills, creativity, and imagination while also helping build motor skills through creative building opportunities. With different themes like Adventure Time and Ghostbusters coming out soon, there are plenty of options from which you can choose.
Get it here.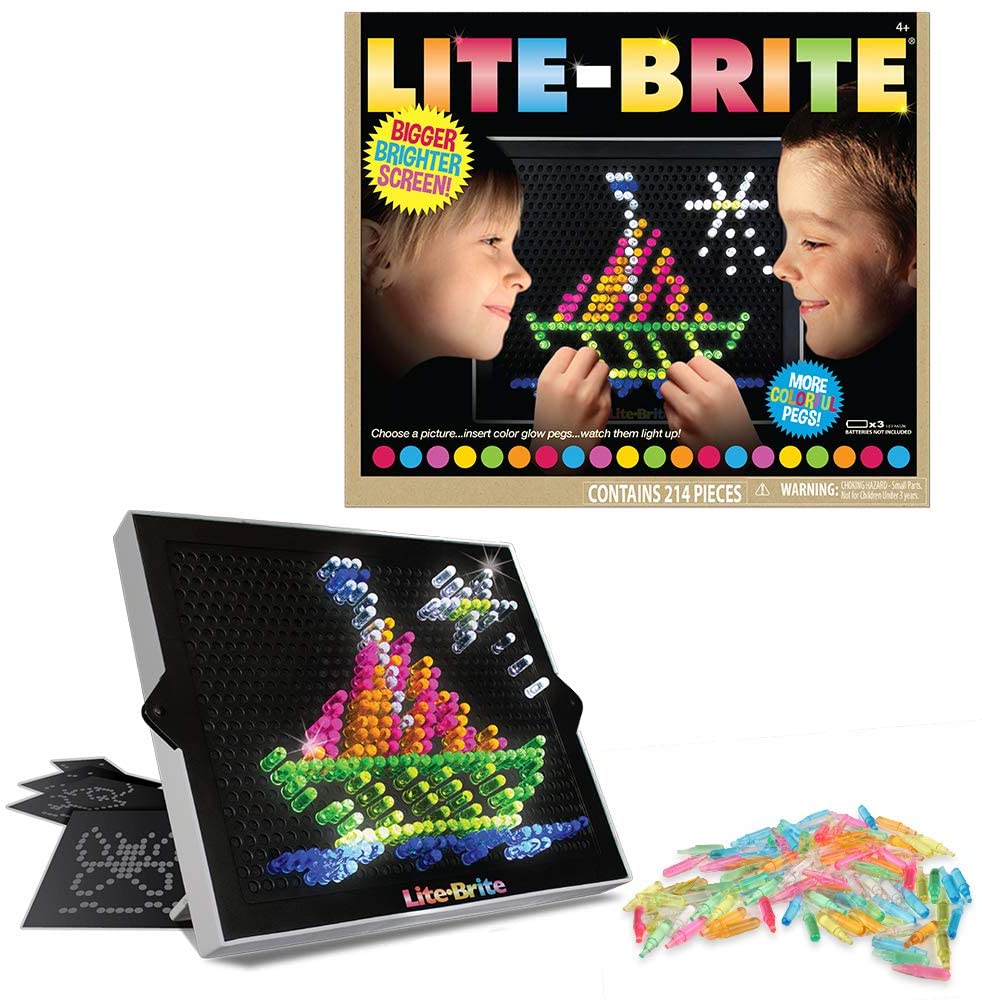 BASIC FUN LITE-BRITE
Recommended age: 4 to 15
Basic Fun Lite-Brite is a nostalgic toy that has recently been released. It's the perfect educational toy for kids from all backgrounds, as it replicates the classic Lite-Brite game from the 1980s. The lite-brite light board features a bigger screen and more pegs than its predecessors and encourages imagination through creativity.
The possibilities are endless with this educational toy for children. The BASIC FUN LITE-BRITE comes in a widescreen that can be used to use or your imagination. It has six design templates that you may use, and the bigger 8.125-inch screen is easy to work with and handle and durable enough for kids of all ages. They would love playing games on their tablets but have fun learning new things from this entertaining electronic toy.
Get it here.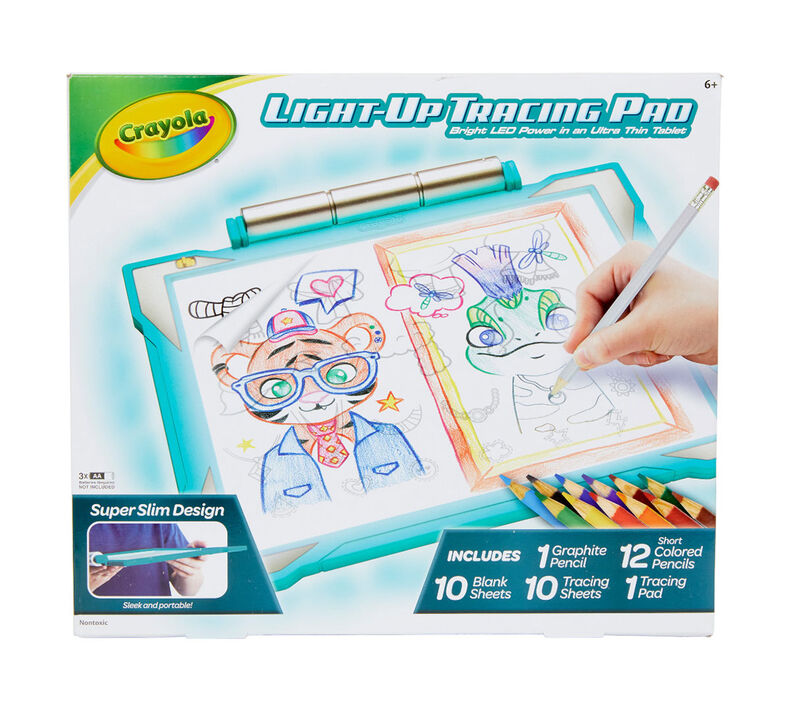 CRAYOLA LIGHT-UP TRACING PAD
Recommended age: >6
The Crayola Light-up Tracing Pad is a tracing pad that has ten blank sheets and one graphite pencil, which makes it perfect for your kids to draw on. It also features an ultra-thin tablet design, making it easy to use in their hands. The LED drawing surface lets your children see what they are drawing or writing clearly and gives a bright light when the pad is plugged into the power source. This product is made by Crayola, a leading brand in the world of arts and crafts.
For those who are looking for an educational toy that will keep kids entertained, the Crayola Light-Up Tracing Pad might be the perfect solution. The tracing pad has many different images to download online, and it's easy to use because of its paper-locking frame, which holds sheets in place, so lines don't get smudged or blurry from constant movement.
Get it here.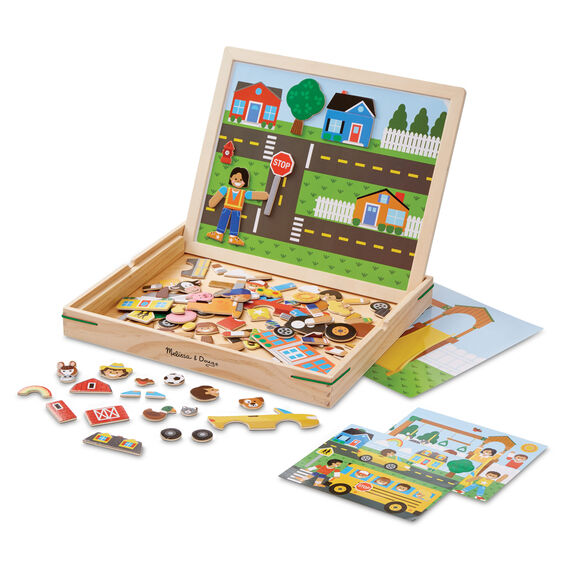 MELISSA & DOUG WOODEN TOYS
Recommended age: All ages
Melissa & Doug have become leaders in the toy industry for their innovative and educational toys. The company has been a leader since outfitting kids with imaginative playsets designed to build skills and, most of all, have fun.
The toys range from learning tools for toddlers, like these colorful wooden stacking rings, to more complex structures like the three-dimensional mazes, perfect for older children who enjoy building spatial reasoning skills. At the same time, they navigate through challenging levels of play.
The toys come in a variety of shapes and sizes, so you'll be able to find the perfect gift for your child. These wooden blocks develop motor skills, cognitive development, vocabulary learning, and problem-solving capabilities while providing hours of fun!
Get it here.
How does playing with toys help to raise intelligent children?
Playing with toys has many benefits for children. It improves their cognitive and emotional development, increases their physical activity, and enhances their social skills. The early months of life dictate how our higher-order cognition will develop and the connections between neurons that govern thinking, memory, and personality. Neural pathways are better developed in children with physical play.
Playing with toys helps raise intelligent children by providing an opportunity for them to develop skills such as reading and writing words or acting out math problems. The finer motor control needed to manipulate different parts of a toy improves dexterity-critical for writing skills. There is also evidence that those who use their hands more in play are better at school-type activities like drawing pictures and using scissors.
Conclusion
In conclusion, children eagerly engage with learning toys for toddlers, furthering their cognitive and physical development. These children's toys are not only a source of amusement, but they also play a crucial role in shaping different facets of children's abilities. Learning express toys such as educational puzzles, games, and arts-and-crafts sets can nurture a child's creativity, improve fine motor skills, and stimulate their penchant for learning. These tools act as building blocks that form a sturdy foundation for a child's future academic and social achievements.
Playing with these interactive instruments fosters a love for learning in children. The cognitive benefits derived from play toys for kids are manifold, influencing areas such as memory formation, concentration, empathy, and communication skills. They effectively turn playtime into an immersive learning experience. Therefore, the impact of educational toys extends far beyond play and exploration; they shape a child's imagination, hone their problem-solving skills, and facilitate the development of essential life skills. Thus, the value of children's toys in their formative years is immeasurable and paramount.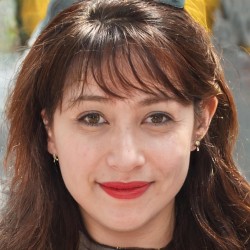 Latest posts by Melanie Maxwell
(see all)
prev postThe Best Toys on Amazon: Top Toys for Christmas and the Holidays
next postThe Most Expensive Toys in the World: Top 10 Toys and Games