Description
---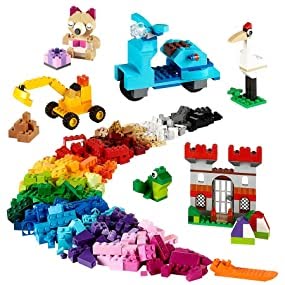 10698 LEGO Classic Large Creative Brick Box – 790 pcs.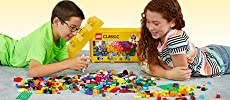 Create Your Own Flexible Tracks with Dinosaur Figures and Cars – Perfect for the Jurassic period enthusiast in your life.
Lightweight and easy to store, this racetrack is an educational toy that encourages imagination and creative thinking.
The color packing box makes it the best choice for a birthday or Christmas gift, inspiring and encouraging free building and imagination.
Endless Possibilities For Creativity And Imagination!
The LEGO Classic Large Creative Brick Box is the perfect creative toolkit for kids of all ages to explore their creative side. With 33 different colors and a variety of special pieces, kids will have endless possibilities for classic LEGO construction. This set includes many windows, doors, and other unique pieces that will keep kids engaged for hours. To get their creativity flowing, suggest a story-starter like an undersea adventure or a day at the zoo. Alternatively, they can use one of the included building ideas to get started. This set will encourage kids to think outside the box and allow their imaginations to run wild. It's a great way to introduce your kids to the LEGO sets you loved when you were young!
LEGO Classic Large Creative Brick Box
House

Eight types of windows and doors with eight different frames.

Creativity

Special pieces include three sets of eyes and window frames.

Castle

Story-starters, like living in a castle, and building ideas are included in the set.
Scooter

All models pictured can be built from this set simultaneously, like this cool scooter.

Storage Box

Comes in a useful plastic storage box.

Bear and Present

Building possibilities are endless with a wide-range of LEGO bricks in 33 different colors.