Description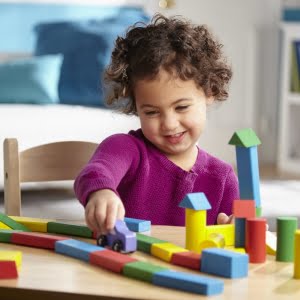 Countless Ways to Play
Wooden building blocks are a classic toy that has stood the test of time for good reason. They offer endless possibilities for creative play and can help children in many ways. When children play with wooden blocks, they are able to experiment with different shapes and sizes, which helps them develop spatial awareness and problem-solving skills.
Colors & Shapes

Made of solid wood, painted in bright colors of red, blue, yellow, and green, and come in nine different shapes.

Sizes Are Just Right

Blocks ranging from approximately 1-inch to 2.25-inches helps develop their fine motor skills.

Versatile Variety

Various types of wooden building blocks available, including rectangular prisms, cubes, cylinders, half circles, arches, and triangles.