Description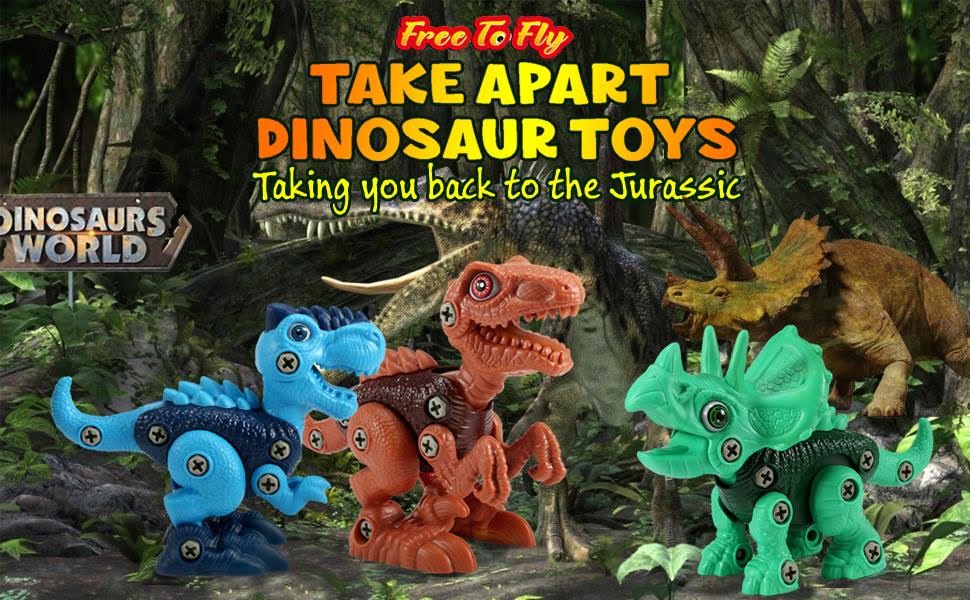 Take Apart Dinosaur Toys
Unlock your child's imagination and give them learning opportunities with our range of educational toys. Our toys are designed to foster brain development and inspire creativity – perfect for those little explorers. Spend hours of quality time exploring the vastness of the dinosaur world with your kids. Learning has never been so fun!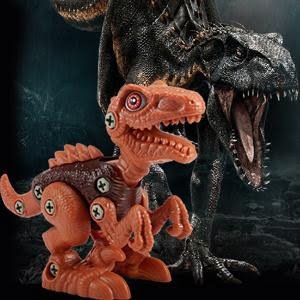 Velociraptor
Velociraptor, a sickle-clawed dinosaur, flourished in Asia during the Late Cretaceous Period (99 million to 65 million years ago). It is closely related to the North American Deinonychus of the Early Cretaceous, both being dromaeosaurs. Velociraptor was smaller than Deinonychus, measuring 1.8 metres (6 feet) in length and weighing no more than 45 kg (100 pounds).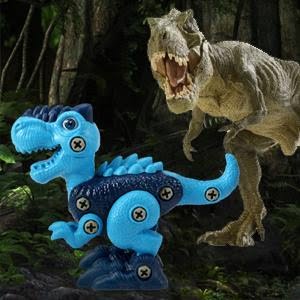 Tyrannosaurus Rex
Tyrannosaurus rex, commonly abbreviated to T. rex, was a genus of theropod dinosaur that lived in western North America during the last three million years of the Cretaceous Period, 68 to 65 million years ago. It has become a fixture in popular culture due to its wide range compared to other tyrannosaurids. Fossils have been found in various rock formations.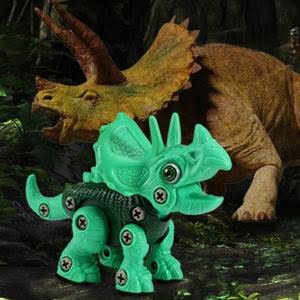 Triceratops
The Triceratops genus of herbivorous ceratopsid dinosaurs first appeared in North America during the late Maastrichtian stage of the late Cretaceous period, some 68 million years ago. These species had a sturdy build, with strong limbs and three-hooved short hands, as well as four-hooved short feet.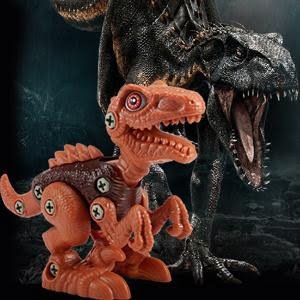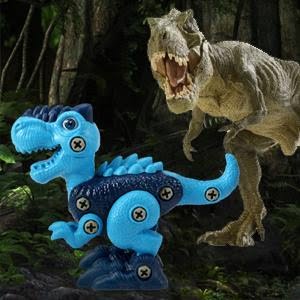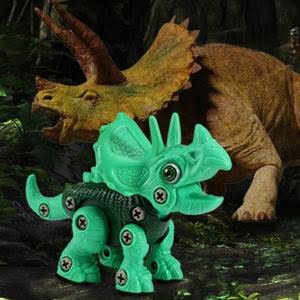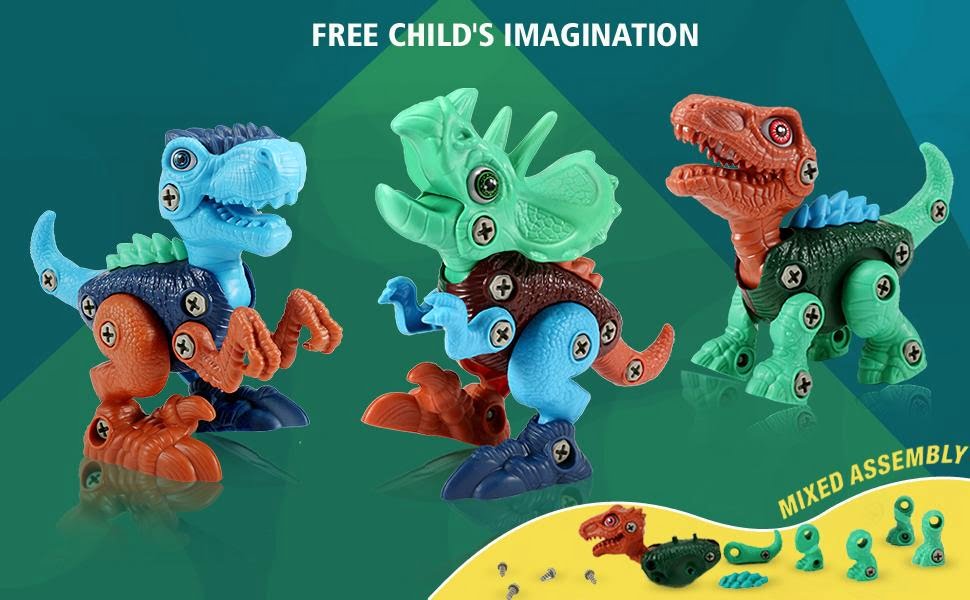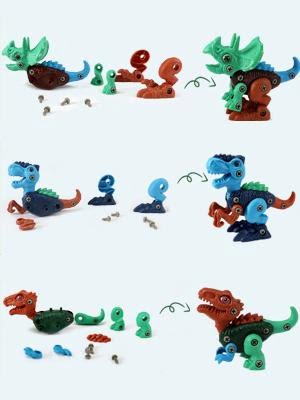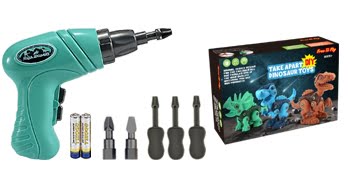 Specifications:
● Material: ABS
● Color: Blue Tyrannosaurus Rex, Green Triceratops & Brown Velociraptor
● Suitable age: 3 years old and above
Package includes:
Dinosaur toys x 3
Electric dill x 1 with Drill bit x 2
Hand drill x 3
Eudcational, Creative, Inspirational, Recreational, STEM toys for boys girls
Great toys for little fingers to develop fine motor skills and stimulate the mind. These STEM learning toys foster imagination, creativity, brain development, and critical thinking, while providing a fun and safe way for families and friends to spend quality time together. Durable and strong, these dinosaur toys will last for years to come.
A Loyal Companion Toys for Boys & Girls

Give your kids the opportunity to explore their creativity and sharpen their hand-eye coordination skills with imaginative playtime in the comfort of your own home! Let them experience the joys of learning with leisure.

Perfect Toys for Kids to Play Games

This creative, entertaining and fun puzzle is a great way for kids to take a break from their gadgets. Working together to solve the puzzle, kids will have a blast trying to fit the different pieces in place.

Great Toys for Kids' Intelligence Development

This engineering dinosaur kit helps kids develop logical thinking, hand-eye coordination, creative thinking, social skills, and motor skills.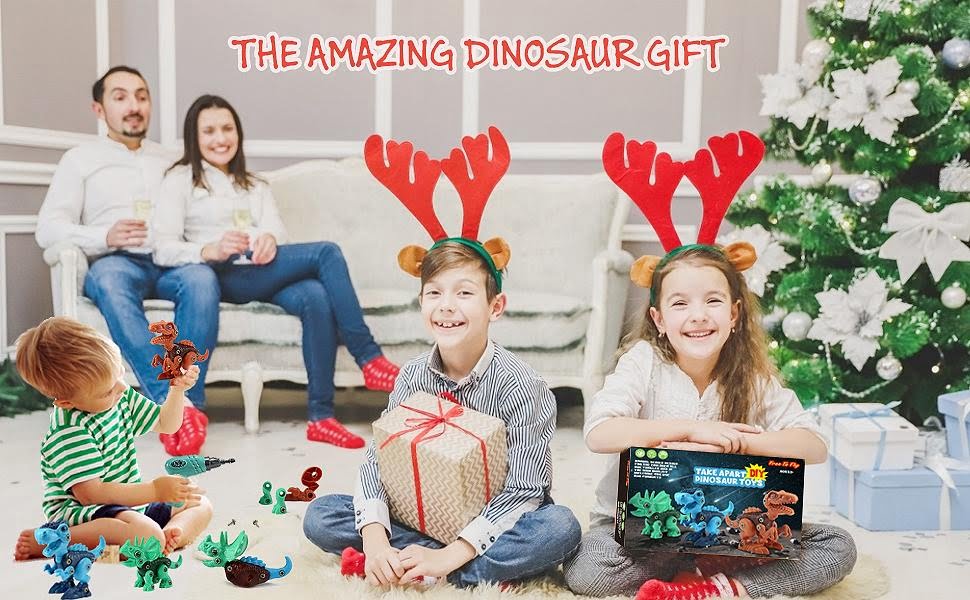 Safety Information
Small parts. Not for children under 3 yrs.