Description
---

Hey there! Are you looking for the perfect toys to bring out the best in your child? Well, look no further! We strongly believe that childhood should be enjoyed to the fullest, which is why we've created the best Montessori wooden toys right here in the United States. Our toys encourage long-lasting, creative play and quickly become well-loved family favorites. Our uniquely designed and hand-finished Montessori toys are a true investment in play, learning, and creating for future generations. They're designed for small, inquisitive hands and mouths with non-toxic water-based paints and rounded edges, making them safe for your child to play with. Plus, they're created to develop key senses through shapes, colors, and textures. So, what are you waiting for? Bring out the best in your child with our amazing Montessori toys!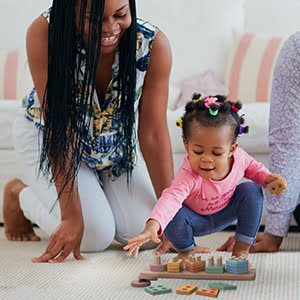 ENJOY PARENT-CHILD TIME – Accompany your toddler to grow up!
Did you know that wooden toys are a great choice for both your child and the environment? Not only are they non-toxic, but they also don't create excessive noise like some plastic toys can. By having natural wooden toys in your home, you can create a peaceful and calming environment for your child to enjoy. Plus, wooden toys are a great way to spend quality time with your little ones while encouraging their imagination and creativity. So, why not consider adding some wooden toys to your child's collection? It's a win-win for everyone!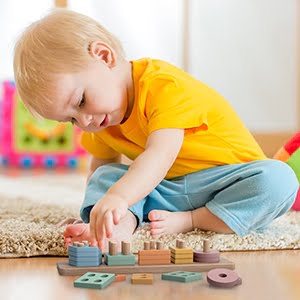 ENCOURAGES YOUR CHILD'S BRAIN DEVELOPMENT!
Did you know that wooden toys are not only great for sparking creativity and imagination in kids, but they also help with brain development by improving cognitive and problem-solving skills? The natural textures of Montessori wooden toys are perfect for stimulating your child's senses and encouraging them to explore the world around them through touch and feel. Plus, wooden toys are much stronger than plastic ones, so you won't have to worry about any broken small pieces, which is especially important for babies who love to put everything in their mouths!
IMPROVE COORDINATION

Our collection of hand-eye coordination toys is perfect for little ones who are just starting to learn. These toys can help improve their attention and focus, and even assist with early language learning when paired with adult interaction and guidance.

DEVELOP CREATIVITY

Montessori toys are amazing for letting children explore their curiosities and creativity! Kids are naturally creative, and these toys help cultivate their initiative-driven natures to the fullest.

FINE MOTOR SKILLS

Did you know that fine motor skills involve the ability to make small movements with the hands, fingers, and arms? It's pretty amazing! Our montessori stacking toys are designed with simpler shapes to help children improve their motor skills in a fun and engaging way.

SHAPE SORTING ACTIVITY

Your child might enjoy dumping out the pieces and playing with them separately before trying to fit them back in the slots. Rest assured that the size of the pieces is safe for your little one and there is no risk of choking.