Description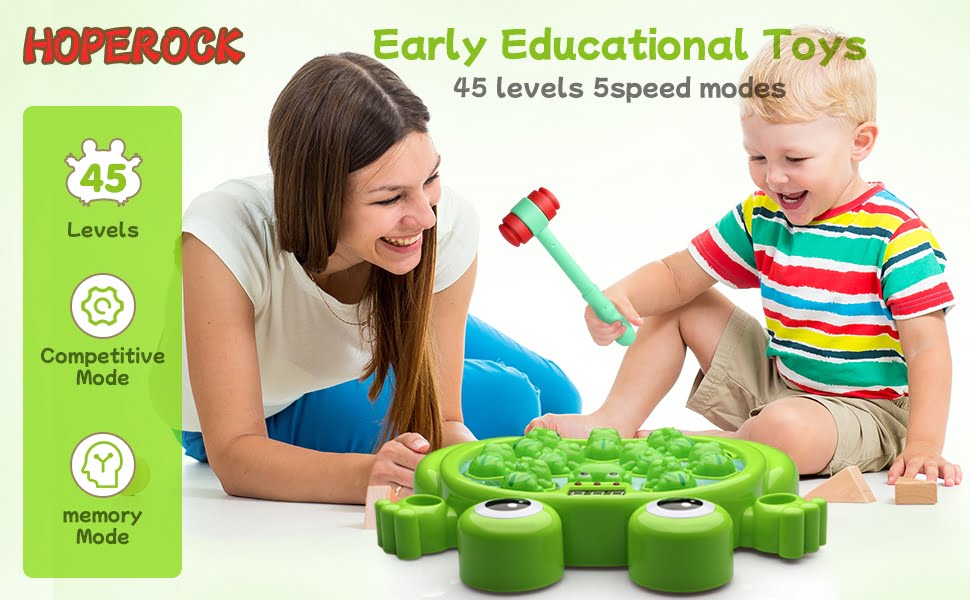 This engaging frog-fighting game is sure to be adored by kids, making it the perfect gift for boys aged 2 to 8 years old for birthdays or the holiday season!
This multi-functional frog toy will help your child stay on a path of exploration, boosting their hand-eye coordination, memory, cognitive skills, and musical talents. Stimulate their minds and imaginations and help them reach new heights of development!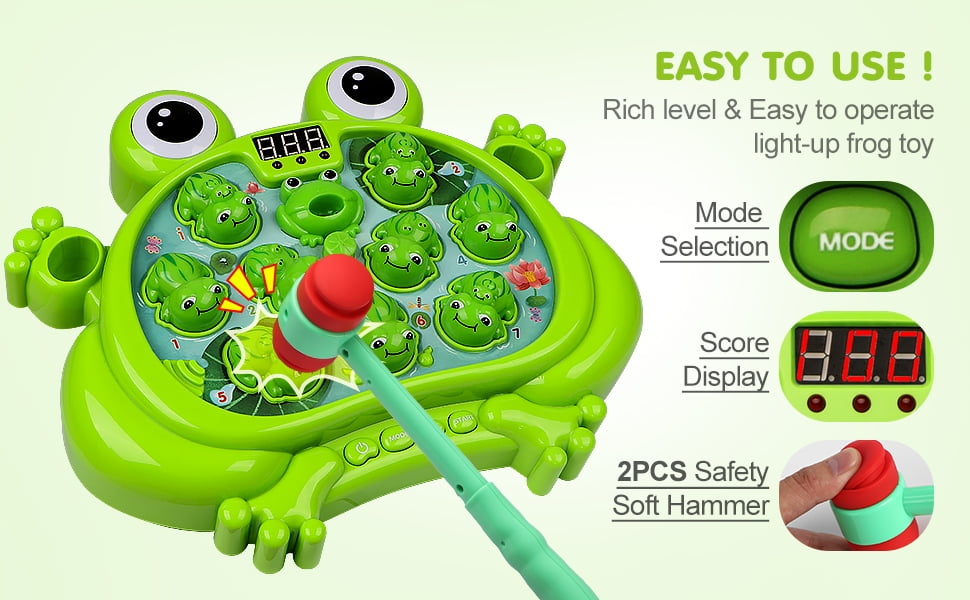 The upgraded design not only adds a spray function, but also provides various levels, making it easier to pique the interest of children in playing!
9 Built-in Children's Music(Mode 4 )

Mode 4 is the perfect mode for your child to explore and express their musical side! It comes with 9 classic children's tunes, such as "Little Star," "Happy Birthday," "Little Bee," "Two Tigers," and "Jingle Bells," to name a few. Your child can choose from five different game modes, including single and multiplayer options. They can even create their own music by pressing any frog in rhythm with the music in piano mode. With this fun and interactive toy, your child can develop their musical abilities and discover their passion for music!

Mist Spray Function

This toy is perfect for girls and boys aged 2 to 4+ years old, simulating the frog's natural habitat and adding to the excitement of the game. Every time your child successfully clears a level, they will be rewarded with a mist (water vapor) of joy and excitement! This toy is sure to bring endless fun and enjoyment!

Safe Material

This frog toy is designed with safety and child-friendliness in mind. Crafted with high-quality, BPA-free and non-toxic ABS plastic, it offers a smooth, polished surface free of burrs, providing a safe and comfortable touch for your little one to hug, play and explore. Get your child hours of safe and educational fun with this interactive toy.
Sleek Button Controls

Our toy has been designed with safety in mind for children. Carefully rounded buttons with no sharp edges or corners guarantee a safe play experience. The buttons include power, mode selection, volume adjustment and start/pause. Once the power is on, users can choose from English or any of the 45 levels to play.

Soft Hammer

These upgraded soft hammers are designed for a more enjoyable experience; made from safe materials and securely attached with 6 screws, the embedded rubber hammer heads are double-fixed to prevent them from falling off. This design ensures that children can safely play together, allowing for a fun and worry-free playtime!

Light-up Function

Bring the fun to playtime with our interactive frog toy! The frogs will light up in multiple modes, each with a different number of frogs. Score a point each time you hit a lit frog and hear its cheerful scream. Your child will be delighted as they watch the frogs light up, creating a more enjoyable playtime experience than ever before!
Sensitive Counting

Your little one will love the thrill of competing against themselves to keep track of their score on the convenient LCD screen and hit as many frogs as possible, with a celebratory "Congratulations!" after each successful hit to encourage them to keep improving their coordination skills. The lighted frog will emit a playful sound, adding excitement and anticipation to each round.

Durable and Safe

The suction cups on the back of the frog game guarantee a secure and safe playtime for kids. Place the game on a clean tabletop or puzzle floor and enjoy added peace of mind knowing that there won't be any slipping incidents.

Button Sensitive and fun interactive toy

The soft, sensitive frog buttons make scoring points a breeze for children ages 2 and up. Perfect for strength training and fine motor skill development, the game's built-in music is sure to capture their attention, making it an even more exciting and enjoyable experience. Whether playing alone or with a partner, this game is a great way for parents to bond with their children and build strong relationships.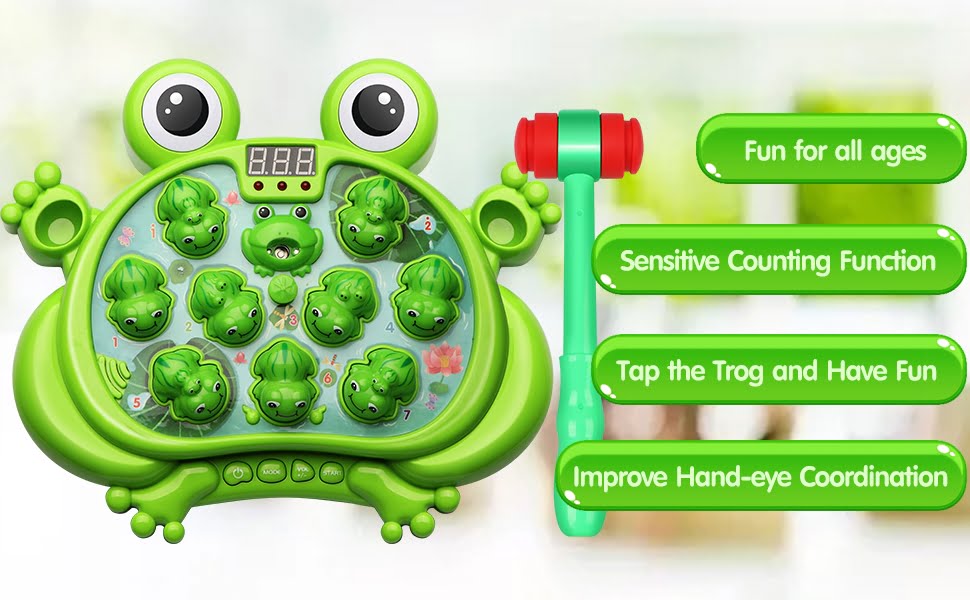 Discover the fun of multifunctional toys with music, lights, and spray. The perfect gift for kids aged 2-4!
Your child will have a blast playing with these toys, while also developing important skills like hand-eye coordination, fine motor skills, and memory retention. Don't wait – give the gift of endless fun and learning today!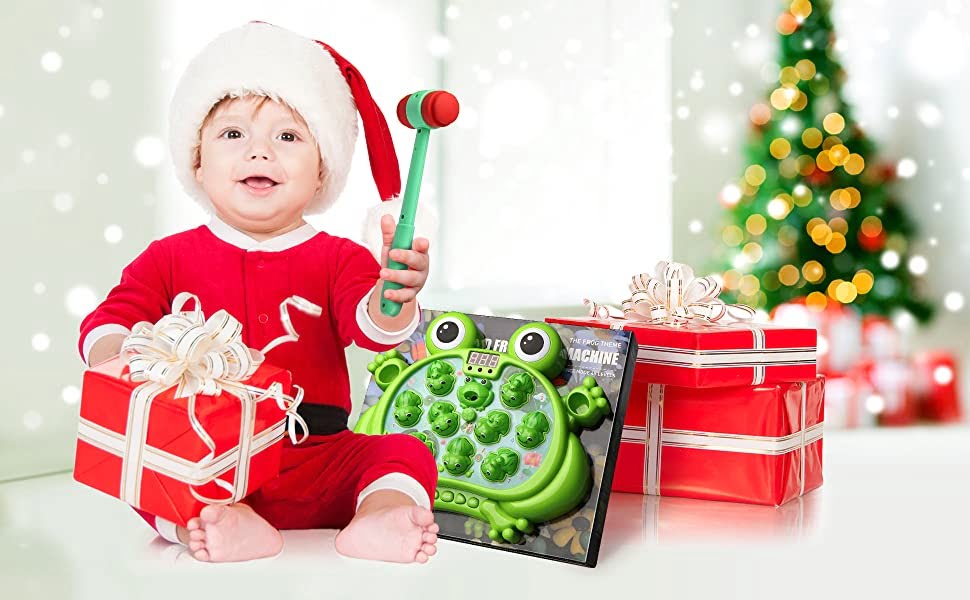 What's in the box:
Soft hammer*2

Frog game toy*1

Suction bottle*1

User Manual*1