Description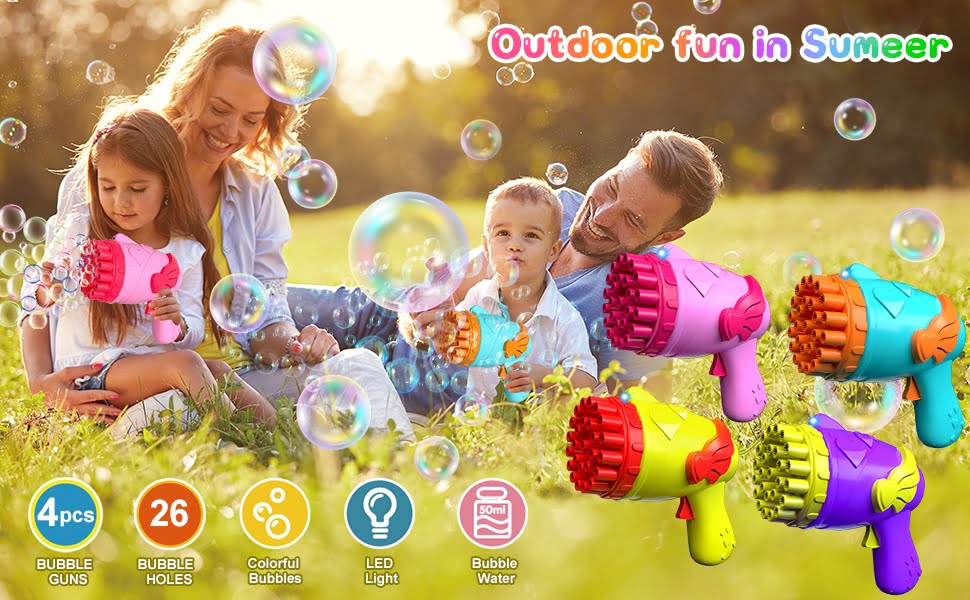 4-Pack Bubble Machine Gun with Lights and Bubble Solution
Kids can't help but be drawn to the fun and exciting bubble machine gun! This vibrant and eye-catching toy is the perfect present for children aged 3-12.
4 packs of bubble guns in a spectrum of vibrant colors, plus their dreamy angel-wing designs – every kid will adore them!

A single click of the 26 bubble holes of the bubble machine guns releases tens of thousands of bubbles, creating an enjoyable atmosphere for your children and pets to have even more fun.

This non-toxic, safe for kids and pets bubble solution comes in 4 bottles.

This LED light bubble gun is perfect for night-time use; it creates a colorful and romantic atmosphere with its rainbow bubbles, making any party a truly special event.

This product is a great choice for creating a fun atmosphere at all kinds of occasions, including picnics, birthday parties, barbecues, balls, stages, weddings, and more. It also makes a great birthday or Christmas gift for kids.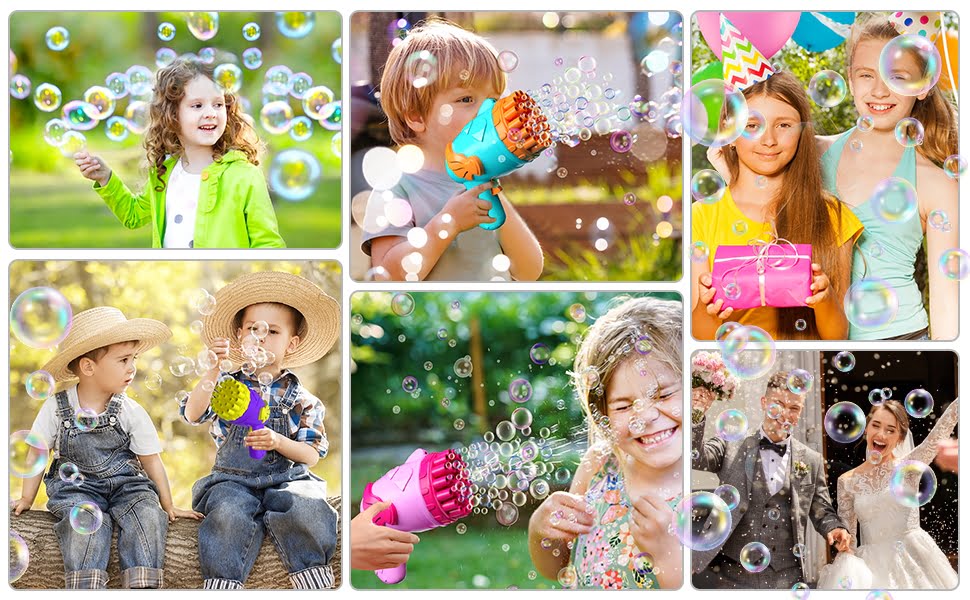 BUBBLES CREATE HAPPINESS
Immerse yourself in a dreamy world with this fantasy bubble machine! Showcasing 26 holes for bubble production and strong wind power, it also features LED lighting for a truly magical effect.
This electric bubble machine is perfect for days without wind – its fan quickly blows out a multitude of rainbow bubbles! With its 4 plates, you can simply and quickly pour in the bubble solution and dip it directly to the machine to create bubbles without any leakage. Traditional and electric methods come together to create a lot of fun!
Things about bubble machine guns what you must pay attention to
26 bubble holes and LED light

This bubble machine produces a large number of bubbles at once, and when combined with light, it looks particularly stunning in the dark.

Bubble gun solution

When too much bubble water is poured into the water tray, the bubble holes of the bubble gun are prone to sticking, causing the bubbles to stick together.

When the amount of bubble water in the water tray is reduced, the bubbles blown out by the bubble gun are very uniform and abundant.

Need 3*1.5V AA Batteries(not included)

Be sure to pay careful attention to the installation direction of the positive and negative electrodes of the battery in order to prevent the bubble machine from not functioning properly.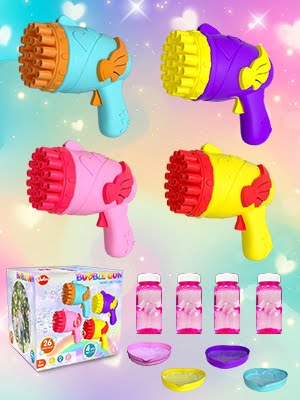 SAFETY TIPS:
1.To use the bubble machine for the first time, press and hold the switch to pump out bubble water and generate bubbles.
2. When not playing for an extended period, it is recommended to clean the bubble machine, remove the batteries, and store it.

3. If the bubble machine has been in use for an extended period and the power is running low or bubbles are not being produced, replacing the batteries may be a solution.

4. The battery must be installed with the positive and negative poles correctly aligned.
Score the perfect gift for kids this season! Whether they're celebrating a birthday, heading off to a party, or getting ready for Valentine's Day, Weddings, School activities, Easter, Christmas, Halloween, or New Year, you'll find the ideal gift here!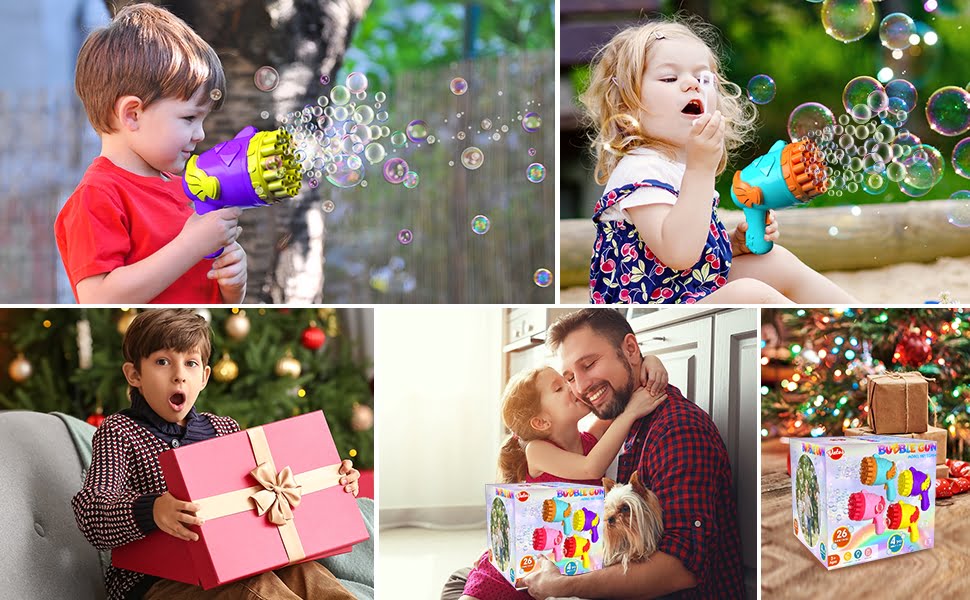 Package included:
Bubble Guns x 4

Bottles of 50ml (1.69 oz) Bubble Solution x 4

Trays x 4