Description
Dive into a sea of fun with these adorable baby bathtub toys!
From Disney's Nemo comes Dory, Nemo, and Squirt – perfect for bathtime adventures. With vibrant colors and an easy-grip design, your little one will love squirting and splashing away with these adorable water toys. The sensory-friendly play experience allows your child to explore and learn to love the water, making bath time something they look forward to!
This 3-pack of Disney Nemo bath toys is perfect for babies and toddlers ages 6-18 months – so grab one today and get ready to splash your way into a world of fun!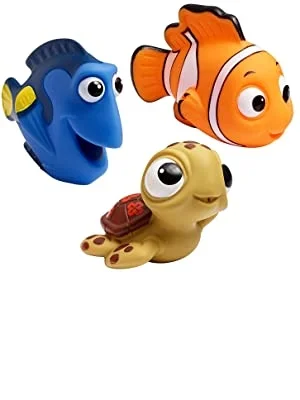 Disney Baby Bathtime Squirt Toys
Make bath time more exciting with these 3 Disney Nemo squirt toys! Kids will love playing with these cute and colorful characters while they splash around in the tub. Not only are they fun, but the squirting action and perfect size for little hands will keep toddlers engaged. Let the fun begin with the magic of Disney and these adorable Nemo bath toys!
Characters:
These squirt toys provide fun and engaging bath time experiences for toddlers aged 6 – 18 months. Their colorful designs help to visually stimulate little ones, while their compact size make them easy for little hands to hold and play with.
Features:
| | | |
| --- | --- | --- |
| Bath Toys with Colorful Design | Squirting Action for Bathtime Fun | Compact Size for Little Hands |